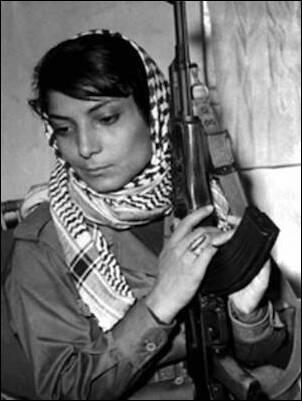 San Francisco State University (SFSU) professor Rabab Abdulhadi is understandably upset at communications technology company Zoom, which last night abruptly canceled a videoconference lecture to her students by Leila Khaled scheduled for today "in light of the speaker's reported affiliation or membership in a U.S. designated foreign terrorist organization." Zoom is perfectly entitled to deny use of its videoconferencing platform in what may be in violation of U.S. anti-terrorism laws, of course, but it might have made its objections known sooner, allowing Abdulhadi to find an alternative platform. Having spent weeks doubling down on the lecture in the face of growing outrage over Khaled's appearance, its cancelation was an unprecedented humiliation for this rising academic star.
It was also a big loss for Abdulhadi's mission of indoctrinating students to hate Israel, for Khaled is a celebrity without equal for anti-Zionist progressives. Photos of her with an assault rifle and trademark bullet ring from the early 1970s have become nearly as ubiquitous in today's radical chic as images of a bereted Che Guevara, and perhaps deservedly so. It surely takes courage to carry out not one but two hijackings, and Khaled's determination to cut against the grain of the heavily patriarchal Palestinian society of her day would be commendable in the service of any other profession.
Given that Khaled never actually killed anyone during her time as a Popular Front for the Liberation of Palestine (PFLP) field operative, one would be hard pressed to raise serious objections if she were hitting the lecture circuit with a message of nonviolent opposition to Israel.
But she isn't. As Rep. Doug Lamborn (R-CO) wrote yesterday in a letter to Secretary of Education Betsy DeVos, Khaled "is an unrepentant terrorist who continues to boast about her terrorist acts." The fact that she came as close as she did to lecturing students at a major American university with a message of violence and hate, stymied only by the technicality that she's still a member of the PFLP, is shameful.
Gary C. Gambill is general editor at the Middle East Forum. Follow him on Twitter and Facebook.